Distressed or drowning swimmers do not yell for help nor can they breathe.
Drownings happen silently and can happen at a moment's notice.
We realize the importance of implementing multiple layers of prevention when it comes to water safety. It's the reason we offer a private event lifeguard service.
From children's pool parties to corporate events, we'll send one or several lifeguards out to monitor you and your guests.
Having someone dedicated to watching those swimming in the water and even those near the water could make all the difference in preventing serious injury.
More info just below…
Lifeguard For Rent San Diego
Here's how to find a lifeguard for rent in the San Diego area.
Not located in the San Diego area? Not a problem.
We'll share how you can still find a lifeguard for your event and also what to look out for when considering your options.
Can You Rent A Lifeguard?
Ever wondered if you could rent a lifeguard to monitor your children or teens while they swim? Or during a busy pool party?
The answer is, yes!
Peace Of Mind Swimming offers a lifeguard event service where we'll send a trained and insured lifeguard to your home or location to keep swimmers safe.
How Do I Hire A Lifeguard?
The most common place to rent a lifeguard is to check with your local swim schools online. While some schools focus solely on providing swim lessons, it has become more commonplace for swim schools to offer a lifeguard rental service as well.
We offer lifeguards for rent through our Peace Of Mind Lifeguard service and have the most awesome lifeguard staff. Here's a quick shot of us monitoring an event of over 80 people: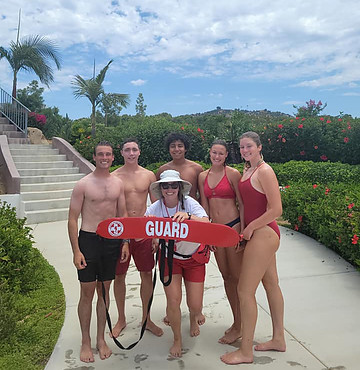 If you decide to book with us, these will be the lifeguards that come to your private event.
(Depending on the size of your event. We generally require at minimum one lifeguard for every 1-20 swimmers).
Our lifeguards arrive on time, stay attentive, and know the appropriate response in case of an accident.
We are located in and serve the San Diego and Temecula area.
If you're not nearby, an alternative for a safe pool party or a pool party with lots of kids is to go by your local swim facility and see if you can book your party there.
Most will provide a lifeguard and other things like tables and chairs for your party.
How Much Do Private Lifeguards Charge?
Below is a chart for our pricing for private event lifeguards.
There is no registration fee. 1 Lifeguard to every 20 swimmers ratio and a minimum of 2 hours is required.
| | | | | |
| --- | --- | --- | --- | --- |
| Lifeguards | # of Guests | 2 Hours | 3 Hours | 4 Hours |
| 1 Guard | 1 – 20 | $140 | $200 | $260 |
| 2 Guards | 21 – 40 | $250 | $360 | $470 |
| 3 Guards | Please call (760) 975-9302 for larger event booking | | | |
| 4 Guards | Please call (760) 975-9302 for larger event booking | | | |
*If you have younger swimmers, we highly suggest 2 lifeguards.
When deciding on booking a lifeguard, make sure they are certified and trained in:
Lifeguarding
CPR and First Aid
Professionalism
Infant and Toddler Water Safety
A few other things to consider:
Do they have their own equipment? (rescue tube and first aid kit, for example)
Do they have liability insurance when showing up to your home?
All Peace Of Mind Swimming lifeguards are certified, trained, and insured.
Lifeguard For Rent San Diego
San Diego is a beautiful place and we are fortunate to serve its residents county-wide, year-round.
IF you're looking for a trained professional to look over your pool party or swim event, we'd be happy to serve you.
Feel free to book online or visit our San Diego Lifeguard for Hire page for more information.
Conclusion
Whether if you're having a small get-together or hosting a large pool party this summer, be sure to plan ahead and book a Peace Of Mind lifeguard.
We'll send a trained, professional lifeguard to your event at a time and date that works best for you.