Temecula Lifeguard For Hire
Hire a 'Peace Of Mind Lifeguard' and we'll send a trained professional to your location. 
Follow the simple steps below to hire a lifeguard within the Temecula area:
Visit our 

Booking and Appointments page

.

Choose our 'Hire A Lifeguard' service (minimum of 2 hours)
Click and choose the date and time of your event
Fill in your information
Complete your appointment!
"Not On My Watch"
— This was the motto of Craig Sargent-Beach who trained many lifeguards, including myself. 
He used this saying to stress the need to be alert and take responsibility to prevent drownings. 
Constant Supervision At Your Party or Event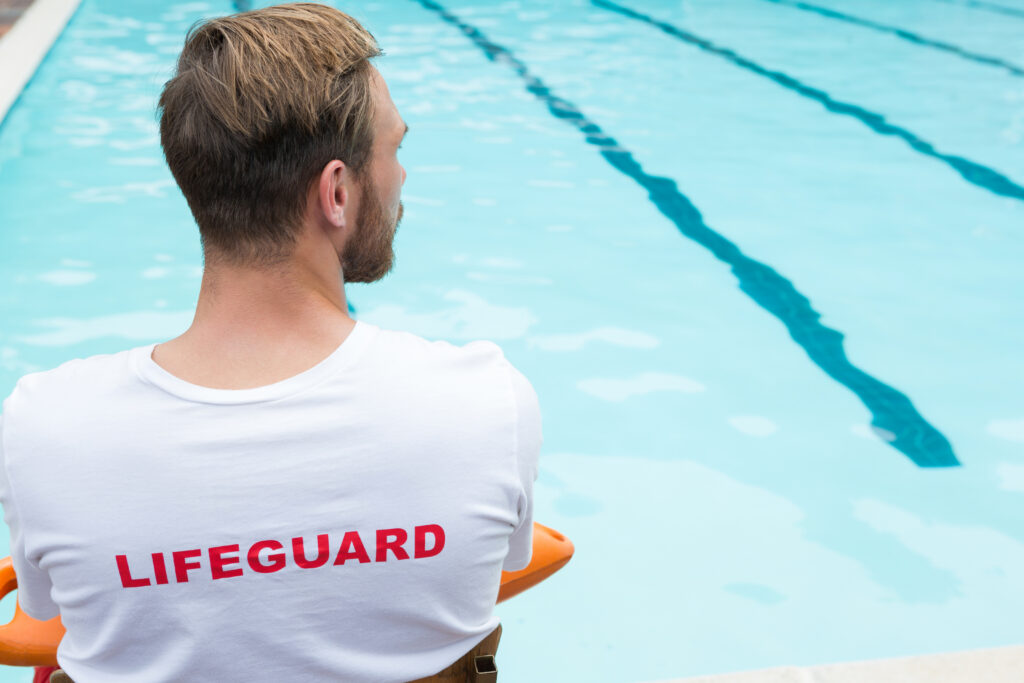 Temecula Lifeguard for Hire – It is our belief here at Peace of Mind Swimming that we will always be vigilant and we will always ensure the safety of you, your family, and friends. 
According to the Center of Disease Control, "Children ages 1 to 4 have the highest drowning rates. In 2014, among children 1 to 4 years old who died from an unintentional injury, one-third died from drowning." 
Peace of Mind Swimming was founded with the belief when multiple layers of protections are implemented, drownings can almost be completely preventable.
While research has shown that participation in formal swimming lessons can reduce the risk of drowning among children aged 1 to 4 years, there is so much more we can do to prevent drownings. 
One of the recommendations from the CDC is to ensure proper and constant supervision. 
Lifeguards are trained individuals that not only monitor the activity in the water but can respond to emergencies and provide CPR, if necessary. 
We provide American Red Cross CPR and First Aid certified and fully insured lifeguards for private events and parties. 
How Much To Hire A Lifeguard?
Hire a Peace of Mind experienced and professional lifeguard for your next backyard get together, birthday party, or corporate event.
Small Parties
No Registration fee. 1 Lifeguard to every 20 Swimmers Ratio. If you have younger swimmers, we highly suggest 2 lifeguards.  2 hour minimum.  
$70 hourly rate for the first 2 hours
$60 hourly rate for each additional
There is a rush fee of $30 if the event is less than 72 hours prior to registering
Cancellations must be made at 7 days hours in advance of service date for full refund; 48 hours for half refund; 24 hours will not receive a refund.  
Full payment is required to secure scheduling of Lifeguard staff. We will invoice you once we confirm your lifeguard. 
Large Events
If you need to book larger event with 2 lifeguards or more, please call 760.975.9302. 1 lifeguard to every 20 swimmers ratio. 
2 hours – $70 hourly rate for 1 lifeguard for the first 2 hours.   Additional lifeguard is $55 hourly rate.
3 hours or more – $140 for the first 2 hours then $60 an hour for each additional hour. Additional lifeguards after 2nd hour is $50 an hour.  
*We also give a 10% discount if you are a former or current customer of either our CPR classes or swim lessons. Please call for a discount.  We appreciate your understanding that water safety is very important.  
To register for your event, click here. 
Trained lifeguards for hire serving the Temecula area.
Book a lifeguard for your next party or event!
Hire a lifeguard to supervise for your next event and have peace of mind knowing that there's a professional present to keep your party and event guests safe.
Frequently asked questions
If you are new to Peace Of Mind Swimming, welcome! Here's everything you need to know about hiring a lifeguard:
How much advance notice is needed to book a lifeguard?
Please give us 7 days advanced notice to book a lifeguard. Less than 7 days advance notice will result in an additional charge to expedite the booking of a lifeguard. 
How many lifeguards will I need at my event?
A ratio of 1 lifeguard to 20 swimmers is sufficient.  However, if there are more non-swimmers present or children younger than 4 years old, we suggest a ratio of 1 lifeguard to 15 swimmers to ensure optimal water safety.