Our lifeguard service provides peace of mind so that you and your guests can enjoy the party
Having a backyard pool usually means time spent around the pool for birthdays, get-togethers, and other social events especially during the scorching hot summer months.
Our lifeguard rental services were created with one goal in mind – to keep families and guests safe, allowing you and your guests to enjoy the party and not have to keep a constant watch on those in and around the water.

Regardless of where you're located, consider hiring a watchful eye, like that of a trained lifeguard, for your next pool party.
Peace Of Mind Swimming offers lifeguards for hire in Fallbrook, Carlsbad, Chula Vista, Coronado, Del Mar, El Cajon, Encinitas, Escondido, Imperial Beach, La Mesa, Lemon Grove, National City, Oceanside, Poway, San Diego, San Marcos, Santee, Solana Beach, Vista, and elsewhere in San Diego County.
Hire A Lifeguard For Pool Parties San Diego
Our lifeguards for hire are available for birthday parties, corporate events, or any other get-together involving swimmers.
You can expect professionalism, experience, and friendliness from our certified and insured lifeguards. We're ready to keep your next party safe no matter how big or small.
If you've never used our lifeguard service before or never hired a lifeguard, you may be wondering what it's like to have a lifeguard at your event or why you may need one at your next pool party or event?
We cover this and more just below…
What's It Like Having A Lifeguard Show Up?
When one of our lifeguards arrive at your home go, they are there to work.
We expect them to be friendly but they are not there to entertain guests or children. They are there for one purpose – to keep their eyes on those in and around the water and make sure everyone remains safe.
Also, our lifeguards are American Red Cross certified lifeguards who are also trained in first aid and CPR.
How Many Lifeguards Does A Pool Need?
How many lifeguards does a pool need or how many lifeguards per person?
A ratio of 1 lifeguard to 20 swimmers is sufficient. However, if there are more non-swimmers present or children younger than 4 years old, we suggest a ratio of 1 lifeguard to 15 swimmers to ensure optimal water safety.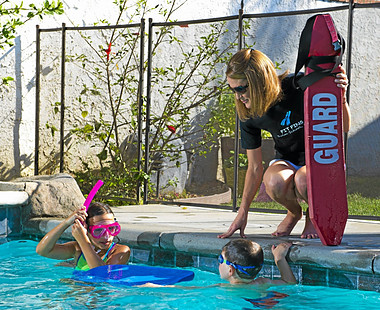 How Much To Hire A Lifeguard?
Ever wondered about the cost of having a lifeguard for a private party or how much it would be to hire a lifeguard for a pool party or event?
You can find our lifeguard pricing for small events and large events just below.
Small Parties
No Registration fee. 1 Lifeguard to every 20 Swimmers Ratio. If you have younger swimmers, we highly suggest 2 lifeguards. 2-hour minimum.
$70 hourly rate for the first 2 hours
$60 hourly rate for each additional
There is a rush fee of $30 if the event is less than 72 hours prior to registering a
Cancellations must be made at 7 days hours in advance of the service date for a full refund; 48 hours for half refund; 24 hours will not receive a refund.
Full payment is required to secure the scheduling of Lifeguard staff. We will invoice you once we confirm your lifeguard.
Large Events
If you need to book a larger event with 2 lifeguards or more, please call 760.975.9302. 1 lifeguard to every 20 swimmers ratio.
2 hours- $70 hourly rate for 1 lifeguard for the first 2 hours.   Additional lifeguard is $55 hourly rate.
3 hours or more- $140 for the first 2 hours then $60 an hour for the first 2 hours. Additional lifeguards after 2nd hour is $50 an hour.
*We also give a 10% discount if you are a former or current customer of either our CPR classes or swim lessons. Please call for a discount.  We appreciate your understanding that water safety is very important.

Why Is It A Good Idea To Hire A Lifeguard?
Drownings can happen quickly and quietly.
In fact, according to the CDC, drownings are a leading cause of injury death for young children ages 1 to 14, and three children die every day as a result of drowning. Drowning kills more children 1-4 than anything else except birth defects.
Here are some preventative measures that you can take recommended by the CDC which will keep your family and friends safe regardless if you are planning a pool party or not:
Fence it off
Make life jackets a must especially around natural bodies of water like the beach, oceans, and lakes
Finally, be on the lookout or hire an alert professional to keep watch
Accidents can and do happen.
This service aims to prevent just that. Offer peace of mind in knowing that swimmers are being tended to from the start to the end of the party.
Whether you are hosting a party for kids or adults, having a trained and alert lifeguard present can make the difference between life and death.
How To Book A Lifeguard For Hire In San Diego
Follow these simple steps to book a lifeguard within San Diego County:
Visit our Booking and Appointments page.
Choose our 'Hire A Lifeguard' service (minimum of 2 hours)
Click and choose the date and time of your event
Fill in your information
Complete your appointment!
There is a 1 lifeguard to every swimmer ratio. For parties and events with more than 20 swimmers, please call our office (760) 975-9302. Cancellations must be made at least 7 days in advance of service for a full refund. Full payment will be invoiced once a lifeguard has been secured for the event.
Conclusion
It's as easy as that!
We'll send someone out on the day and time of your pool party or event to monitor swimmers and keep friends and family members safe.
Secure your lifeguard today while still available. Hiring a lifeguard for a party or event is the smartest insurance policy you can have.