Ever wonder when CPR certifications expire?
Below we answer some of the most common questions regarding your CPR certification. How long does a CPR certificate last? When and where to renew your CPR certificate? How much will it cost?
We answer this and more just below…
How Long Does A CPR Certificate Last?
Your CPR certification is valid for 2 years from the date of being issued.
So if your certification is set to expire soon, read on to see which steps you need to take to stay CPR certified.
How To Look Up Your CPR Certification
Visit the following Training Services page for the American Red Cross.
From there you can search for your certification using one of any of the following methods:
Enter your email address
Enter your full name and the Month and Year you were certified
Enter your certification ID number
Looking up your CPR certificate will let you know when your certification is set to expire along with other details. It can also be a handy tool if you lose your physical copy after completing a class.
Where Is My CPR Certification Number
The CPR certificate number is at the bottom of the certificate.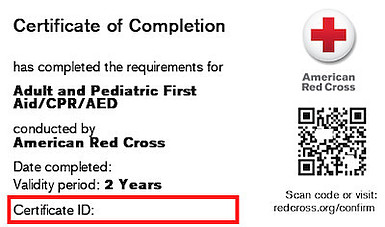 There is also a date of issue and the expiration date. You'll want to confirm that the CPR certificate is still valid and that you don't need to certify again. Again, you can find this by visiting the verification page on the American Red Cross website shared above or you can also call the American Red Cross directly at (800) 733-2767.
Where To Renew CPR And First Aid Certification
Renewal class doesn't take as long as the first-time CPR certification class, which makes complete sense since you already have the knowledge and skill and they just need to be refreshed.
For anyone located in the San Diego and Temecula area, you can renew your CPR certification with us. We can even send an instructor to your location to teach you or a group.
If not located in these areas, you can visit the Red Cross website to register for a renewal class in your location.
How Much Does It Cost To Renew CPR Certification?
Peace Of Mind Swimming offers an in-person classroom experience or a blended online Simulation Learning course with a 60-min skills check. We also have the option to come to your location because we believe and want you to get the CPR training you need on your schedule.
CPR training costs:
Adult And Pediatric First Aid/CPR/AED-online and Classroom $69
3 hour online and 60 min skill check in-person
Adult And Pediatric First Aid/CPR/AED- Classroom $88 – 4 hour class
San Diego CPR Classes & First Aid Training – If you want us to come to you, please contact us for more info.
What happens if my CPR expires? What if my CPR certification is already expired?
If your certification is more than 30 days expired, you are no longer eligible to take a renewal or challenge course, but rather will need to take a full certification course again either in-person or online.
What If I Can't Find My CPR Certificate?
If your certificate has been lost or stolen, the original issuer has the responsibility of issuing a duplicate card if it has been lost, destroyed, or has become unusable.
All requests for duplicate or replacement cards must be submitted directly to the CPR training center that issued the original card.
Conclusion
So, how many years is a CPR certificate good for?
Certifications do expire but are good for 2 years from the date it was issued.
Interested in getting your CPR certification? Join us for a class and join those who spring into action in case of a crisis. Sign up here to get certified in First Aid, AED, and CPR!